Universal Water Current Meter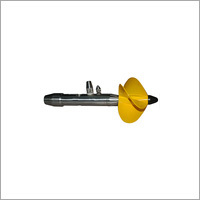 Universal Water Current Meter
Product Description
Universal Water Current Meter
Universal Water Current Meter is a world recognized instrument. This water current meter is suspended in the water using a cable with sinking weight or wading rod and will accurately measure stream flow velocities 0.04 m/s up to 10 meters per second with multiple propellers. Universal Water Current Meter measures the velocities of stream through its sensing element mounted on its streamlined body. The counter if this meter counts the pulse produced by the reed switch which helps in determining the rotations of the propeller and hence the velocity. Usage of stainless steel in its construction prevents it from corrosion and damage, providing longer service life.
Velocity Measuring Range: 0.04 m/s ~ 10 m/s
Meter Body: Material high Quality non-corrosive Brass.