Solar Tracker (Dual Axis)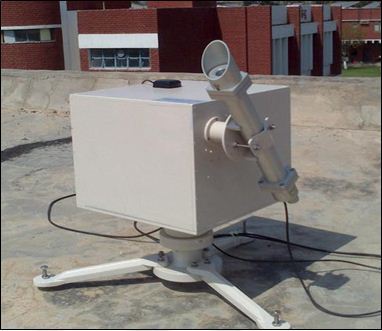 Solar Tracker (Dual Axis)
Product Description
The dual axis solar tracker (Model No.: V-SOL-2A2P) is an all-weather positioning platform used to point specialized instruments/sensors at the sun's movement across the sky. It is fully automatic and does not require a computer or software installation to control the tracking of Sun movement. The integrated GPS receiver automatically configures location and time data. An RS-232 port allows for software upgrades. The high- efficiency gear drive system requires no maintenance. The tough and distinctive cast aluminum housing has an integrated tripod stand with leveling feet. A side plate with mountings for a pyrheliometer is included as standard and a second side mounted plate can be fitted for an additional pyrheliometer.
Specifications:
Pointing Accuracy +/-0.1
Resolution 0.01
Transmission Stepper motor Gear driven
Torque 30Nm
Payload Capacity 30kg
Max. Angular Velocity 2.5 /s
Azimuth Rotation 540
Zenith Rotation -90 to +90
Over Rotation Protect Optical Sensor along with internal mechanical stoppers
Power Requirements 12V/4A (Max)
Methodology the system has a GPS (Global Positioning System) to acquire
(Microcontroller and GPS data i.e. Latitude, Longitude, altitude and exact GMT time. The based control) movement of the sun tracker is controlled by stand alone 16 Bit
low power MCU system (using GPS data) only. High sensitivity external antenna -159db, Low noise LNA & SAW band pass filter. There is no such dependency on a PC, laptop, palmtop or any other computer or data logger, after initial configuration, for unattended continuous tracking of the Sun.