Rotary Shaker Horizontal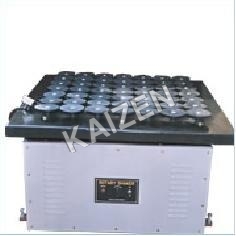 Rotary Shaker Horizontal
Product Description
With years of domain expertise, we have etched a strong reputation as one of the well known manufacturers and exporters of Rotary Shaker Horizontal. Widely used for continuous shaking of solution in Eriynmeyer flask from 50-1000 ml capacity, this laboratory shaker is known for their high shaking speed which is controlled mechanically to work on 220/230 V AC supply. Our customers can avail this Rotary Shaker Horizontal in different technical specifications and designs.
Features:
Low power consumption
Compact design
Optimum functionality
Less maintenance
Other Details:

Compact bench type model with platform fitted with rubber dics, mounted in ball bearing crank shafts to give an orbital motion to the flask. The motor is coupled by means of V - belt with pitch pulley is mounted on a heavy and sturdy iron angel frame.


| | |
| --- | --- |
| Size | H.P |
| 45 x 45 cm ( to hold 25 flask of 100 ml ) | 0.25 |
| 45 x 45 cm ( to hold 36 flask of 50 ml ) | 0.25 |
| 45 x 45 cm ( to hold 49 flask of 25 ml ) | 0.25 |
| 45 x 45 cm ( to hold 16 flask of 250 ml ) | 0.25 |
| 55 x 55 cm ( to hold 25 flask of 250 ml ) | 0.25 |
| 60 x 60 cm ( to hold 36 flask of 250 ml ) | 0.5 |
| 100 x 100 cm ( to hold 81 flask of 250 ml ) | 1 |