Pocket Weather Meter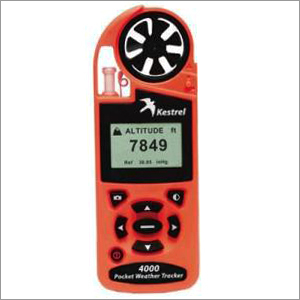 Pocket Weather Meter
Product Description
Pocket Weather Meter
Measure every major environmental condition with this powerful hand-held instrument - barometric pressure, altitude, density altitude, temperature, humidity, wind speed, wind chill, dew point, wet bulb, and heat index. Using its chart mode, the can recall and graph up to 250 measurements, along with storage times and dates. Measurements are stored manually at the touch of a button.
Measurements can also be automatically stored when the unit is turned off. You can even customize screens so that only selected measurements are displayed. Wind speed can be displayed in knots, meters per second, kilometers per hour, miles per hour, feet per minute, or Beaufort force. Temperature, wind chill, dew point, and heat index are shown in either C or F. Relative humidity is displayed as a percentage, and barometric pressure can be viewed in hectoPascal (mb) or inches mercury. Altitude and density altitude are displayed in meters or feet. A durable hard cover protects the impeller while allowing other functions to be used.
Combine the Kestrel 4000 with a portable vane mount and portable tripod (each sold separately) for a data-logging weather station that rotates in even the slightest breeze and is ideal for short-term monitoring. This versatile, waterproof instrument floats, features an easy-to-read backlit display, and has an auto shutdown feature which activates after 15 minutes without a button press (feature can be disabled). Neck and wrist lanyards, protective pouch, and 2 AAA batteries included.