Plant Canopy Analyzer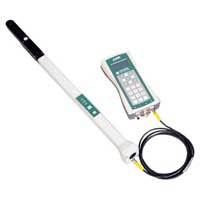 Plant Canopy Analyzer
Product Description
Plant Canopy Analyzer:
Kaizen Imperial takes the pleasure in introducing you to a superlative range of Plant Canopy Analyzer that comprises of flexible and convenient equipments for analyzing and measuring Photo synthetically Active Radiation (PAR) in Crop and Forest canopies. This instrument assists in acquiring significant information about the penetration of PAR into crops and forest and can be availed by our clients at premium rates. Laboratory tested for quality control checks, our range of Plant Canopy Analyzer is widely appreciated by clients worldwide.

Attributes :

Optimum quality
Durable
Cost-effective

Essential in :

Comparative crop studies
Crop production
Research initiatives

Features:

Sensor input- 1 PAR Sensor, 10Line Quantum Sensors
Measured Parameter- Site ref, Date time Incoming PAR, Diffuse PAR, LAI
LCD (16*2)to display the instrument status
Membrane Keyboard is provided for on site programming Without help of computer
Adjustable Tripod Stand with leveling plate for single PAR Sensor.
Memory range more than 4000 data sets (extendable to more at extra cost)
Rechargeable SMF batteries with battery charger.
User- Friendly inbuilt application software for data retrieval from data logger to computer (USB Port)
Operating Temperature:- 20 to 70oC. Operating Humidity: 0to95% non-condensing
Measures Direct and transmitted PAR in Plant canopies. Direct display of Leaf Area Index (LAI). Unoque PAR sensor
For measuring direct PAR. Usable in all weather condition. portable and battery powered.
Calculate LAI under steady and changing light when used with external PAR Sensor.
Designed to be hand held
Auto-logging-define intervals from 1 sec to 24 Hour as per customer's requirement(Sold Extra).