Magnetic Stirrer with Hot Plate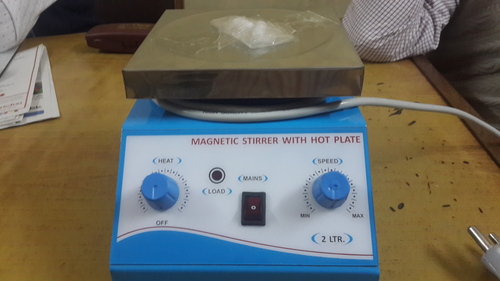 Magnetic Stirrer with Hot Plate
Product Description
Magnetic Stirrer with Hot Plate
The lab stirrers offered in our organization are out of the finest products in the industry and are exported and supplied to all over the world. Different materials are used to produce this device i.e. ceramic, aluminum and acrylic. Magnetic Stirrers with hot Plate is available with the top designs of different shapes, colors & sizes with the feature of long durability and dependability here. The hotplate is very useful to heat to its maximum temperature i.e. 450C, within 8 minutes. They are designed in a way that the mixing of the viscous liquids is absolutely effective and it results in accurate output.
Benefits of Magnetic Stirrer with hot plate:
Automatic Temperature Control
Digital Speed Control
Programmable
Long life
Trustworthy
Microprocessor Control
Top Design
Ptfe-coated stirring bar
Other Details:
Hotplate Magnetic stirrers are taken into use at various fields such as physical and chemical analysis, bio-pharmaceuticals and many other fields. This product consists of glass ceramic plate which is resistant to corrosion and can be cleaned very easily. We feel proud to be the manufacturer of the fines products all around the world.