Heating Mantle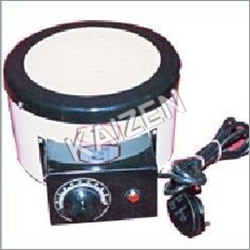 Heating Mantle
Product Description
With years of domain expertise, we are counted among leading manufacturers, suppliers and exporters of Heating Mantle. These laboratory equipment is suitable for laboratories, chemicals, pharmaceuticals and glass plants, and is widely used for heating inflammable liquids. We were established with a vision to meet variegated laboratory equipment requirements of the customers and are able to provide best-in-class Heating Mantle that is known for its following features:
Low power consumption
High operational fluency
Longer service life
Low maintenance
Other Details:
Electric heating net in hand knitted from glass yarn and there is no joint to maintain the strength of the yarn and stands high temperature upto 350 degree C. The body of the mantel is spun one piece from M.Steel duty staving painted. All heating mantles are legged with special mineral wools to work on 220/230 V AC supply.

Technical Details:
| | |
| --- | --- |
| Two Tumbler Capacity | Rating |
| 50 ml & 100 ml | 80 W |
| 250 ml & 500 ml | 200 W |
| 1 Liter | 300 W |
| 2 Liter | 450 W |
| 3 Liter | 500 W |
| 5 Liter | 600 W |
| 10 Liter | 2 x 600 W |
| 20 Liter | 3 x 650 W |
| 50 liter | 5 x 650 W |
| 100 Liter | 6 x 900 W |
| 200 Liter | 9 x 900 W |