Double Ring Soil Infiltrometer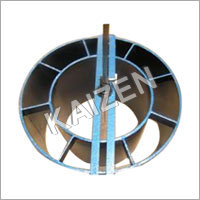 Double Ring Soil Infiltrometer
Product Description
Owing to our rich industry experience and knowledge in this domain, we have become an eminent Double Ring Soil Infiltrometer manufacturer, supplier and exporter. Offered Double Ring Soil Infiltrometer is used to find the permeability as well as the infiltration rate of soil. Additionally, this infiltrometer helps in determining various characteristics of soil such as soil erosion rates, irrigation patterns, drainage efficiencies and the likes.Our well equipped infrastructure unit helps us to ensure prompt and hassle-free production of this Double Ring Soil Infiltrometer.
Features:
Compact in design
Precise measurements
User-friendly operations
Longer service life
Other Details:
This rate can be calculated on the basis of the measurements and the DARCY's law. Several measurements can be executed simultaneously, yielding a very reliable and accurate mean result. As vertically infiltrated water runs away to the side. The outer ring of the Infiltrometer serves as a separation. The measurement exclusively takes place in the inner ring through which the water runs virtually vertically. The instrument consists of two rings, driving plate, for inner and outer rings. The two rings are driven into the ground and partially filled with water. The double ring design helps prevent divergent flow in layered soils. The outer ring acts as a barrier to encourage only vertical flow from the inner ring. The standard set of the double ring Infiltrometer consist of 2 steel rings with different diameters, a hammer, floats, a stainless steel hammering cross and a stopwatch.