Digital Rainfall Recorder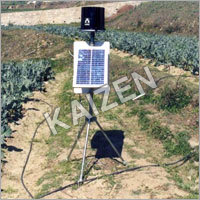 Digital Rainfall Recorder
Product Description
Owing to our expertise in this market, we are highly affianced in manufacturing, exporting and supplying Digital Rainfall Recorder for unattended recording of rainfall. These recorders are widely used for recording and measuring the level of rainfall. Our offered recorders are designed by latest digital technology and are equipped with a tipping bucket type rain gauge sensor, solar panel and a tripod stand. Moreover, this Digital Rainfall Recorder is perfect for mounting in various locations.
Features
Low power consumption
Maintenance free
User-friendly software
Digital Rainfall Recorder
The Digital rainfall recorder consists of a weatherproof enclosure which contains the data logger and power supply, and comes complete with a solar panel, tripod stand and a tipping bucket type rain gauge sensor. Features: Unattended recording of Rainfall. Standard program and user-friendly software. Data retrieval by Data shuttle to your Computer. Suitable for mounting in a variety of locations. Low power consumption. Memory range more than 16500 data sets extendable up to more than 33000 data sets at extra cost. Exterior constructed of Weather proof polypropylene. Maintenance free.