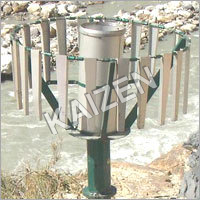 Snow Gauge (Mechanical Type)
Product Description
Snow Gauge (Mechanical Type)

This instrument is used to measure the depth of snow by collecting it to a particular point. This instrument find its wide application in meteorology to collect and calculate the value of solid precipitation. This works well for the measurement of Snow Water Equivalent. Meteorologists and hydrologists are more likely to use container attached to a funnel shaped gauge. When the basin is full or the snowfall has ended. The snowfall is then arrived at by multiplying the water equivalent times 10.
Accurately measures fallen snow depths up to 30. Permanently marked, large, white 1/2 graduations on a green background are designed for reading from a distance. Gauge self-adjusts by sliding down the legs to allow for accurate measuring no matter how far the supports are positioned in the ground. Spring steel legs are designed to withstand blizzard-force winds. Weather-resistant corrugated plastic gauge provides years of trouble-free use. Dimensions: 42 x 4 x 1/8.