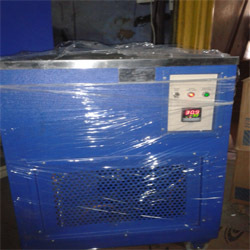 Cloud & Pour
Product Description
We are established as one of the prominent manufacturers and exporters of Cloud & Pour. All these apparatuses are assembled with various cooling bath that are sturdily made by using high quality materials. These apparatuses are extensively used for measuring the cloud and pour rate of jet fuel, diesel fuel and finished lubricants. Further, we make available the array of Cloud & Pour units to our clients at competitive prices.
Features:
Easy moving caster wheels
Provide accurate measurements
Longer service life
Further Details:

This is made according to specification laid by IP 15 & IS 1448 (P :
10) 1970. The pour point is lowest temperature at which the oil will just fail to flow. The cloud and pour point apparatus is a laboratory instrument which is used to perform several test on oil, thus, finds wide application in petroleum industry. Made out of supreme quality steel, this apparatus in equipped with single & double stage refrigeration system for performing test on varied temperatures.A Glass jar for containing oils, Jacket, disc and gasket as specified are also provided.

Cloud & Pour Single with Insulated Body.
Cloud & Pour Point Two Test with Insulated Body.
Cloud & Pour Point Four Test with Insulated Body.
Cloud & Pour Point Six Test with Insulated Body.
Cloud Pour Point App. WITH REFRIGERATION SYSTEM (for 2 test App.) Temp. upto -30 degree C.